Cedarview Manufacturing Inc.
Where your source for affordable and high quality Hot Tub Gazebos and Spa Enclosures
Pre-install the metal Roof panel
Pre-assemble the Wall Panel
Gazebo Parts in Production
Cedarview Manufacturing Inc is a manufacturer of quality cedar outdoor structures, specializing in handcrafted Spa Enclosures, Greenhouses, Garden Rooms and multi-use Gazebos (hot tub gazebos and garden retreats).
We are proud to be one of the manufacturers who are able to supply both high quality and affordable cedar products. We have over 10 years experience in designing and building spa enclosures, hot tub gazebos, greenhouses and other outdoor cedar structures.
Our over 6000 sq. ft production facilities are located in Surrey of the Greater Vancouver area, British Columbia, Canada, which is only ten minutes driving distance to Canada-US border of Washinton State. This gives us the advantages to ship products fast to our customers all over the United States and Canada.
Our experienced carpenters and woodworkers are working hard in our design, pre-cutting, sanding, staining, pre-assembly and shipping departments. We ship our carefully crated and protected product kits to USA, Canada and worldwide.
Cedarview Manufacturing Inc.
Unit #1, 17358 104A Ave.
Surrey, BC V4N 5M3
Canada
Phone: 1-604-582-0608
Fax: 1-604-582-0606
E-mail: info@cedarviewmfg.com
www.cedarviewmfg.com
Build Cedar Lattice Panel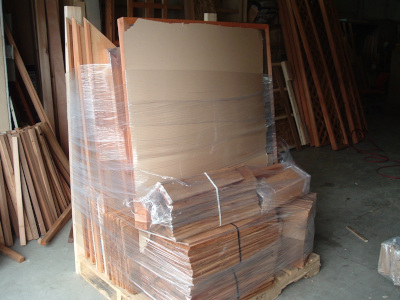 Packing
Shipping