AMAZING HOT TUB GAZEBOS - 2023
Cedarview Gazebos Collections
Unique Western Red Cedar
We build Hot Tub Gazebos with Western Red Cedar (WRC), which is an unique lumber from B.C. Canada and WA, USA. The WRC is the best wood for backyard structures and looks beautiful!
Handcrafted in British Columbia, Canada for proven quality & durability.
We have limited Quantity of overstocks up to 45% off
Please fill in the Quote Form for a best pricing
Our gazebos are shipped to the USA Duty Free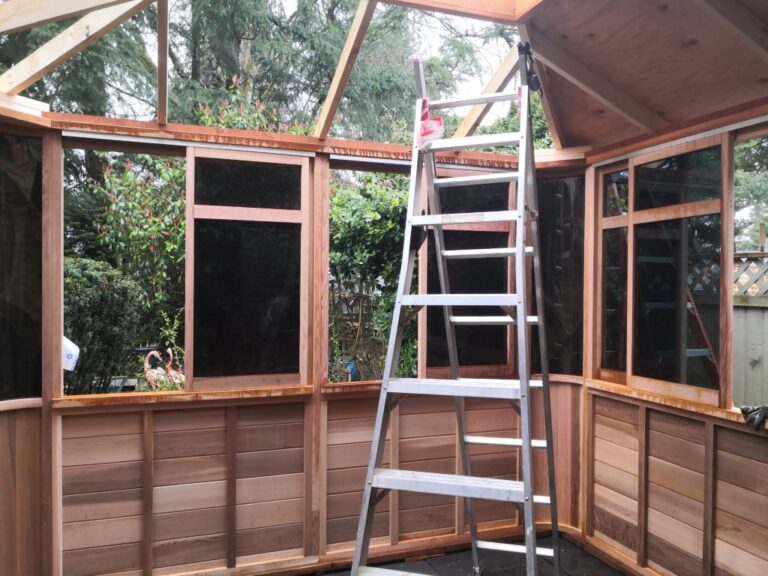 In a raining Spring season, we assembled our new Atlantic 10'x12′ Hot tub gazebo.  Hover your mouse over the images to see descriptions. Click the
Read More »
Hot Tub Gazebos Photo Gallery
click on image to view full size
LOTS OF HOT TUB GAZEBOS TO CHOOSE FROM
We have a variety of spa enclosures and hot tub gazebos for you to choose from. The Pacific Series or Atlantic series Hip Roof Style is an elegant fully featured gazebo that will enclose a spa or hot tub perfectly. It uses natural Plexi-glass on windows for added protection and safety. Also you can look up at the sky through a dome skylight that comes featured with these unique gazebos.  
Our Islander Series Gable Roof style spa enclosures are built especially for your comfort. These hot tub gazebo feature two slopes of metal/wood gable roof as well as two gable windows that's designed to let more natural sunlight in.  
If you just love the open air, then you're going to love the Hawaii Line Spa Enclosures. It features a fully open and natural air experience with delicately added lattice side panels that create extra beauty and a privacy surrounding. 
Our Octagonal Style gazebo lets you step inside with friends for conversation, laughs and relaxing moments. This sturdy cedar gazebo features octagonal shaped cedar floor, sturdy support posts, comforting hand rails and scenic roof. 
Please enjoy these hot tub gazebos at our exceptionally low price!